THANKS TO OUR DAF CONSEIL PARTNER, ENJOY MULTI-EXPERTISE TECHNICAL ASSISTANCE!
DAF Conseil offers its customers (automobile repairers, repair networks, fleets, equipment manufacturers, manufacturers of diagnostic tools, automobile manufacturers) multi-expertise technical assistance (tools, fault diagnosis, spare parts) and multichannel (telephone, form web, smartphone, tablet).
The service is open 8 hours a day and 5 days a week from Monday to Friday for a service rate of 90% on average.
DAF Conseil is equipped with a high-performance AVAYA unified telephony solution allowing it optimal security and traceability of all calls and web forms allowing the development of detailed monthly statistics, by type of service.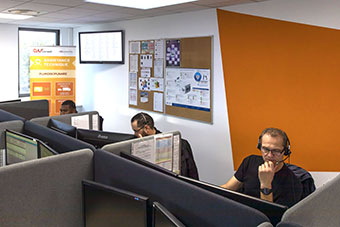 The organization of our service allows precise management of customer calls:
• Management of contact priorities according to the channels used
• Queue management, message programming, personalized music (telephony)
• Programming of groups (Tool, Light Vehicles, Truck, Parts, etc.) and sub-groups of expertise (ADAS, Passthru, etc.)
•Call and contact statistics
DAF Conseil is also equipped with a proprietary web solution allowing the recording of all files:
• Customer recognition
• Recognition of the channels used
• Call history
• Business knowledge base and multi-brand and manufacturer technical documentation